With rapid globalization and the advancement of new technologies, countries are facing increasing challenges to public safety and critical infrastructures.
Established in 2007, ISDEF has grown into Israel's most significant international Defence, HLS & Cyber exhibition showcasing the latest technologies and solutions for Military, Police, Special Forces, Security Agencies, First Responders, Homeland Security Organizations, and the Cyber Community.
Israel's largest defense, HLS & cyber exhibition
Holistic approach
 At ISDEF we believe that defence and homeland security are intrinsically connected with countries requiring a holistic approach for mitigating threats. ISDEF facilitates a unique platform, attracting exhibitors from more than 24 countries and visitors from more than 70 countries.
Global appeal
ISDEF draws a broad audience from both Israel and abroad, bringing the industry's leading defence, HLS and cyber companies together with government and military officials, industry members, end users and decision makers from Israel and around the world. 85% of the attendees have buying power making ISDEF a highly effective platform for rapid business growth.
The 11th edition of ISDEF
The 11th anniversary edition of ISDEF took place on March 21-23, 2022 and was successful in solidifying the exhibition's reputation as the largest international defense, homeland security and cyber exhibition in Israel. ISDEF2022 was the first face to face international conference to be held on this scale post COVID, and an excellent opportunity for our visitors from 75 countries, and contacts to be able to get together after a long period in the virtual arena.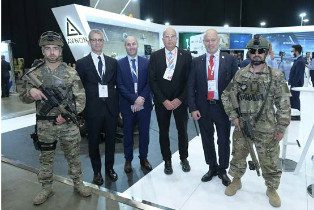 Opening ceremony
The opening remarks of ISDEF 2022 were delivered by LTC Chris Brouns, Dean of AMAI- Association of Military Attachés in Israel, Mr. Tomer Avnon, founder and owner of Avnon Group and Mr. Mati Weinberg CEO of ISDEF.
In addition to the strong emphasis on interoperability and business development, ISDEF 2022 also dedicated a great deal of resources to promoting and sharing professional knowledge among manufacturers, distributers, and end users. This manifested in the form of dedicated workshops that took place alongside the exhibition and featured world-renowned industry leaders and specialists from various sectors of the counterterrorism, homeland security and the cyber realm.
Furthermore, attendees had the opportunity to learn about the latest developments in defense and cyber technology, watch products in action during live demonstrations, and to find the optimal solutions for their needs. We were excited to host first time international partners such as Brazil, South Korea, Zambia, and the UAE.
Delegations
ISDEF 2022 managed to invite a record number of official trade and defense delegations from around the globe. We were honored to host Chiefs of Staff from Africa and Asia, Ministers of Defense from Eastern Europe and Africa and many more decision- making level government officials, heads of law enforcement and the intelligence community. ISDEF 2022 served as a unique stage bringing together key players from the Defense and HLS sphere.
Exhibitor breakdown by sector
Defense: 52%
HLS: 30%
Cyber & Intelligence: 16% K9: 2%
Top industry sectors at ISDEF
Aerospace | Armaments | CBRNe & EOD | Counter UAV | Counter- Terrorism | Cyber Security & Cyber Intelligence | C4ISR | Force Modernization | Homeland Security | Law Enforcement |Maritime| Optics & Electro-Optics | Special Operations | Special purpose & Armored vehicles | Tactical Equipment |Training & Simulation | Unmanned Systems & Robotics | K9 | Search & Rescue
K-9 demonstration
Visitors to ISDEF 2022 could see dogs and their operators walking around the expo hall, as well as starring in several live demonstrations. This special participation of military trained canines in a defense expo was a great compliment to the technological aspects of the exhibition.
Robotic K-9 A NEW BREED OF OUR FOUR-LEGGED FRIEND.